Car type/Price: Specialty cars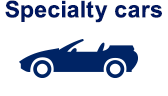 Minimum price

Depends on the store
Depends on the car
Recommended use

Special driving experience
Number of passengers

Depends on the car
We provide special vehicles such as cars you wouldn't normally drive, those currently in a trend, and rare vehicles, to satisfy customers who love driving. We have a variety of vehicles such as luxurious Japanese and foreign cars. *Car types may differ in the stores.
※For peak season pricing in certain regions, please go to "Check the details of the vehicle".

Reserve it now
with the simple procedure!

Car type and price of Specialty cars