Car type/Price: Kei-cars

Minimum price

From ¥

3,645
Recommended use

Recommended for city cruising, one-day trips, and short use.
Number of passengers

For - 4 passengers
Since Kei-cars have small bodies you can drive safely in narrow corridors, and park easily. Recommended for people who don't drive so often.
※For peak season pricing in certain regions, please go to "Check the details of the vehicle".
JSK class
Available only in some stores
Passengers

4 passengers
Example of the car type

Life, Move, Wagon R, Stella, MR Wagon, etc.
They are easy to navigate even in narrow corridors. Chances are it would be hard to park a vehicle that you've never driven before, but not the case for Kei-cars. They are perfect vehicles for ladies.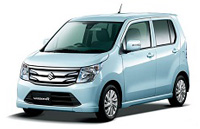 Price
Up to 6 hours
Up to 12 hours
Up to 24 hours
Extend for one day
Extend for one hour
Online booking


(25 % off)

¥3,645
¥4,050
¥4,860
¥4,050
¥810
Usual price
¥4,860
¥5,400
¥6,480
¥5,400
¥1,080

Reserve it now
with the simple procedure!

Car type and price of Kei-cars